Attention: New telephone number!
The business of Wikora GmbH SolarSpeicherSysteme is discontinued. ABSol Germany GmbH, based in Blaubeuren, has taken over the supply of spare parts and accessories for all WIKORA and Nova products.
You can now reach us on our new telephone number 0049 7344 928238.
The homepage is under revision.

We represent:
■ More than 60 years experience in tank production
■ Leading technical know-how
■ High degree of flexibility
■ Competent contact persons
■ Production in compliance with current standards
■ Quality - Made in Germany
DHW, combi and buffer storage tanks
manufactured on our own German premises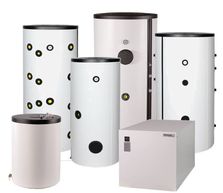 Flat plate and vacuum tube collectors
for a mulititude of combinations